Kathleen Winter is the author of a novella and two books of non-fiction. Her first collection of short stories, boYs (Biblioasis, 2006) was the winner of both the Winterset Award and the 2006 Metcalfe-Rooke Award.
In 2011 she published her first full-length novel, Annabel, which has been sold in 15 countries and received major international recognition, including nominations for The Orange Prize (UK), The Scotiabank Giller Prize, The Governor General's Literary Award and the Writer's Trust Prize.  In 2014 she created an inspirational travel memoir, Boundless, which was nominated for the RBC Taylor Prize, the Hilary Westin Prize for Nonfiction and the Mavis Gallant Prize.  In the same year she published her second collection of stories, The Freedom in American Songs, which was chosen as a Globe & Mail Top 100 Book of the year.
Winter's work has appeared in literary journals from coast-to-coast.  She lives and works in Montreal, Quebec.
Forthcoming:
Lost in September (Random House Canada, August 2017)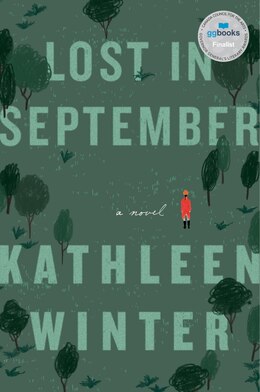 Nonfiction
 
Boundless A brilliant new narrative from the bestselling author of Annabel. Boundless is documents Winter's physical and spiritual voyage from Toronto to Greenland then across Baffin Bay and into the Northwest Passage, following Franklin's exact route.  (Canada: House of Anansi, 2014; UK: Jonathan Cape, 2015; US: Counterpoint, 2015 Germany: btb; French (ex Canada): Christian Bourgois Editeur; French (Canada): Les éditions du Boreal)

Finalist – Hilary Weston Writers' Trust Prize for Nonfiction, RBC Taylor Prize for Nonfiction, and Mavis Gallant Prize for Nonfiction

Booklist –Best of the Year 2015, PW – Starred review, Kirkus – Starred review
Fiction
 
The Freedom in American Songs A new collection of short stories.  World Rights Available Ex: English North America (Biblioasis, 2014)

Globe & Mail Top Book for 2014
.
Annabel An evocative debut novel about a hermaphrodite child born in a remote Labradour outport community.

Finalist, Canada Reads 2014
Best Fiction of 2011 list, Kirkus Reviews
Longlist, International IMPAC Dublin Literary Award, 2012
Shortlist, 2011 Orange Prize (UK) Thomas Head Raddall Atlantic Fiction Award, 2011 Finalist, Ontario Library Association (OLA) 2011 Forest of Reading Evergreen Award
Finalist, 35th Annual First Novel Award, Amazon.ca
Indie Lit Awards 2010, GLTB category #1 National Bestseller, Macleans
Finalist, 2010 Scotiabank Giller Prize
Finalist, 2010 Rogers Writers' Trust Prize
Finalist, 2010 Governor General's Literary Award
NewYork Times Editor's Choice
Oprah Magazine, Top Books to Watch
Globe & Mail Top 100 Book
Quill & Quire Best Book
Amazon.ca Best Book

World Rights Available Ex:Canada (English): House of Anansi; UK (incl. Aus/NZ): Jonathan Cape; US (English): Grove Atlantic; Brazil: Novo Fronteira; China (simplified rights): Beijing Green Beans Books Company; China (complex rights): Ten Points Publishing;  France (ex. Quebec): Editions Christian Bourgois; Germany: btb (Random House); Hebrew: Matar Publishing House; Italy: Bompiani; Netherlands: The House of Books; Norway: Forlaget Oktober; Portugal: ASA Editores; Quebec: Editions Du Boreal; Romania: Polirom; Spain (including Basque edition): Erein Argitaletxea; Sweden: Kabusa; Audio, North America: Recorded Books.

Reviews:

"Kathleen Winter's novel, Annabel, is absolutely riveting from the very first page. At its most basic, Annabel is the story of a hermaphrodite child raised in Labrador. It is about the struggle of genders within one child, and how that struggle makes the child another thing entirely, though effectively about any kind of suppression. Its language is breathtaking and her subject is thrilling because – hard to manage these days – it is so very new. I have friends I worry about handing this novel to, because of its subversive, but beautiful, power."
– Globe & Mail

"Annabel is a stunning and stirring debut that signals the long-overdue arrival of a literary talent." – Halifax Chronicle Herald
"This is a beautiful book, lyrical and compelling in its quiet way. " – National Post

FROM THE US:
"Winter possesses a rare blend of lyrical brilliance, descriptive power and psychological and philosophical insight. This book announces the arrival of a major writer." – Kirkus Reviews

"[An] utterly original debut novel…a haunting story of family, identity, and the universal yearning to belong." – O, The Oprah Magazine
"Her lyrical voice and her crystalline landscape are enchanting."  – The New Yorker

FROM THE UK:
A truly extraordinary and unforgettable first novel: assured, brilliantly written and heartbreakingly beautiful. – Joseph O'Connor, author of Ghost Light

"Annabel is a mature and beautifully-crafted debut, full of savagely clear-eyed observation and startling compassion." – A.L. Kennedy, author of What Becomes